Description
Ethyl Maltol Liquid Concentrate
A 10% Ethyl Maltol liquid formulation in PG is your liquid concentrate of choice as a flavouring agent, enhancer, and a sweetener. It is worth mentioning that Ethyl Maltol is different from Maltol, and is 4 to 6 folds more potent than Maltol.
How much volume of your Ethyl Maltol liquid concentrate should be used in your DIY liquid depends on the fact whether you need it as a sweetener or as a flavouring agent.
As a sweetener, we do not recommend using more than 8-10% of your total liquid, for a reason; you already have a sweet component in your e-liquid base, which is the VG.
On the other hand, when you use it as a single layer flavouring agent to produce a cotton candy flavoured e-liquid and based on your tasting preferences; you may go from 12% up to 18% of your total produced e-liquid volume. But, when used with multiple layers of flavouring agents, you may go from 5% up to 13% of your total produced DIY e-liquid.
---
Ethyl maltol belongs to the family of Pyranones and derivatives. These are compounds containing a pyran ring which bears a ketone in its structure.
This product is stable and non-reactive under normal conditions of use, storage, and transport. Also, it is stable, and no dangerous reaction is known under normal conditions of use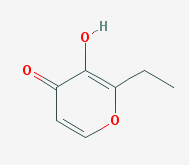 Physical and Chemical Properties
Molecular Mass: 140.15 g/mol
State: Solid (Crystals)
Melting Point: 90 – 91 °C
Colour: White
Boiling Point: 290 °C
Taste: Sweet
Water Solubility: Insoluble
Vapour Pressure: 0.1 mm Hg @20 °C
---
Ethyl Maltol Liquid Concentrate
was last modified:
July 1st, 2021
by