---
Liability Disclaimer
The information contained on Cigorette Inc websites, databases, and online vape store is presented to serve our clients in getting precise information about us, our products, and our services. Also, to get an excellent knowledge-base concerning the electronic cigarettes and liquids vape industry. Our goal is to help them in buying, understanding, using, and maintaining our sold items and services. Therefore, nothing is intended to be as guiding lines for medical diagnosis or treatment, or suggesting a course of treatment.
Should you have any vape medically related inquiries, you may consult your physician or other healthcare providers.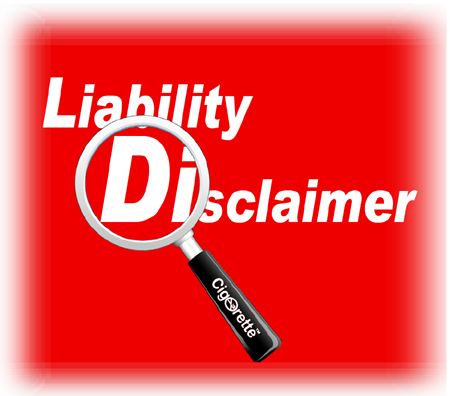 The information we provide on Cigorette Inc websites, databases, and online store is driven from a variety of authentic sources. However, some of the information that we offer to the reader through our e-services may include some errors or spelling mistakes or wrong terminology that our quality control department is reviewing, cross-referencing, correcting, and improving regularly.
All Cigorette Inc websites, databases, online vape store information, and services; are provided "as is" without warranty. That is why; Cigorette Inc at this moment disclaims all conditions and warranties about our information, vape products, and services to the fullest extent permitted by law. In no event shall Cigorette Inc. its employees, directors, agents, and suppliers be liable.
---
Electronic Cigarettes and eLiquid Vape Related Products' Disclaimer
Cigorette Inc vape products can help in quitting tobacco cigarettes and not quitting smoking. So they are not a smoke cessation products and have not been tested enough as such.
Some of these controlled products may contain nicotine, and not intended for use by people under 19 years old, pregnant or nursing women, or people who are allergic to any of the e-liquid vape components, or those who have risk factors and diseases such as asthma, high blood pressure, diabetes mellitus, or heart diseases.
It is essential to know that any information provided on Cigorette Inc website, vape products' manuals or leaflets. Also, information delivered verbally in any corporate store location; is not driven by clinical trials and is not intended as a substitute for informed medical advice. Also, you should not buy any product or take any action unless you have consulted with a health care professional or have agreed to be the only liable party of its use.
---
Disclaimer
was last modified:
August 3rd, 2021
by