---
Privacy policy
Overview
Your privacy is important to us. Therefore, Cigorette Inc is committed to protecting the privacy and security of its customers and online users. Also, respecting the confidentiality of their data, transactions, and all business related communications content.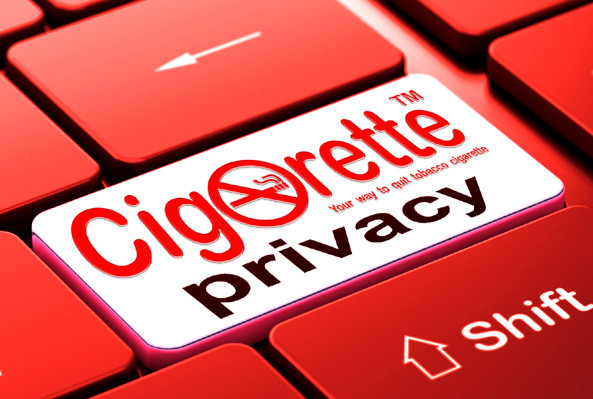 Furthermore, Cigorette® products knowledge-base and the information we provide in our website, electronic offices, and physical locations; are very essential for you to recognize our quality products and pioneering services, and most of all; to understand how to use our products in a perfect and safe way.
In order to achieve this, Cigorette Inc, sometimes, collects information during your physical and online visits to understand certain vital parameters that help in serving our and your privacy as well as to serve you and the whole e-vaping community in a better way.
It is worth mentioning that the information obtained by Cigorette Inc about individual users to their websites, databases, electronic offices, and/or physical locations are those supplied voluntarily by users.
In the event Cigorette Inc may need certain information to fulfill certain running services, products, and was not pre-mentioned in the agreement with our users and clients; then, users are explicitly asked for it.
Certain information provided by users like name, address, e-mail, etc… will not be disclosed to anyone unless it's pre-agreeable with users or the agreed upon protocol of their running service is dictating to do so. However, Cigorette Inc may do so, in the event required by law, an inquiry by the government, or in litigation or dispute resolution.
Cigorette Inc Privacy Statement is designed to assist you in understanding how we use and safeguard the information you provide in using and utilizing any of Cigorette Inc websites, databases, products, and services.
---
Cigorette Inc Collected Information
5 Types of information are collected by Cigorette Inc from its users:
IP Addresses:
A number assigned to your computer whenever you access the Internet that allow communication and recognition between computers and servers. Cigorette Inc collects IP addresses for system administration, analysis, security, compliance, and reporting purposes.
Cookies:
A text files that Cigorette Inc transfers to your machine hard desk during online sessions that doesn't contain any personal information. They enable us to better serve you while using our website with information that you have specifically provided to Cigorette Inc website.
Analytics:
Some online soft-wares maybe used by Cigorette Inc to view site related usage information and parameters so that it helps in improving our webs and databases from different aspects.
Voluntary supplied information:
Data of this type are mainly collected when users fill in their information for registration purposes into Cigorette Inc physical location customer care programs, campaigns, websites, databases, and online store; which require users to give contact information such as name, e-mail address, organization, and title. The user's contact information is used to contact the user when necessary. This information may be shared with our partners, affiliates, subsidiaries, and sponsors in general. But personally identifiable information will not be disclosed without the user's prior consent.
Online store captured data and information:
Collection of this type of data is executed over extremely secured, encrypted transmissions and connections and is stored in the back-end with multiple layers of encryption.
---
Can this privacy policy be modified?
Cigorette Inc reserves the right to modify the provisions of this Privacy Policy/ Statement if deemed necessary. We will inform you of these changes by publishing the revised Privacy Policy / Statement at our website or electronic mailing messages, and/or regular mailing correspondences. The revised Privacy Statement shall become effective immediately.
---
How long the data is kept by Cigorette Inc.?
Cigorette Inc will retain all data as long as it is necessary to fulfill the purposes and goals they were collected for in the first place. This is with reference to agreeable pre-defined scopes of customer care services and benefits.
---
External Links
Cigorette Inc may provide external links to various third party web-sites or databases. Even if there is no authority for Cigorette Inc over linked sites, or have independent privacy policies. We are not responsible or liable for any practices or procedures exercised by third parties' sites.
---
Ad Services
Cigorette Inc may use third-party advertising services to display certain advertisements. Some cookies may be placed on your computer for the purposes of ad tracking. Cigorette Inc does not share users' information with any of its advertising services.
---
Surveys and Questionnaires
Cigorette Inc online surveys and questionnaires may ask users for certain contact and other information. The user's contact information is used to contact the user when necessary. Surveys and questionnaire information may be shared with partners, affiliates, subsidiaries, and sponsors. But, it does not indicate the identity of individual users.
---
Privacy Policy
was last modified:
January 13th, 2019
by