What is an atomizer ?
An atomizer is a main component of an e-vaporizer. It contains a small heating element that vaporizes e-liquid, and a wicking material that draws liquid onto the coil.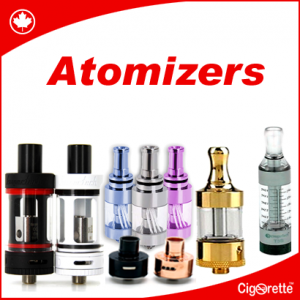 Along with a battery and e-liquid the atomizer is the main component of every personal vaporizer. Also, small length of resistance wire is coiled around the wicking material and connected to the integrated circuit, or in the case of mechanical devices, it is connected directly to the battery through either a 510, 808, or ego threaded connector. Moreover, when atomizer is activated, the resistance wire coil heats up and vaporizes the liquid, which is then inhaled by the user.
Furthermore, the electrical resistance of the coil, the voltage output of the device, the airflow, and the efficiency of the wick all affect the vapor coming from the electronic cigarette device. They also affect the vapor quantity or volume yielded.
Wicking materials vary from one atomizer to another. "Rebuildable" or "do it yourself" atomizers can use silica, cotton, rayon, porous ceramic, hemp, bamboo yarn, oxidized stainless steel mesh, and even wire rope cables as wicking materials.
Finally, Atomizers have three main generations:
First: Cartomizers
Second: Clearomizers
Third: RBA's (Rebuildable Atomizers)
---
What is an atomizer ?
was last modified:
December 25th, 2016
by