RTA
---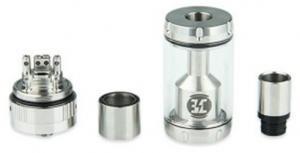 RTA :::: Rebuildable Tank Atomizer
RTAs have a tank to hold liquid that is absorbed by the wick. They can hold up to 4ml of e-liquid. The tank can be either plastic, glass, or metal. One form of tank atomizers was the Genesis style atomizers that use ceramic wicks, stainless steel mesh or rope for wicking material.
The steel wick must be oxidized to prevent arcing of the coil. Another type is the Sub ohm tank. These tanks have rebuildabe or RBA kits. They can also use coilheads of 0.2ohm 0.4hom and 0.5ohm. These coilheads can have stainless steel coils.
Kanthal wire is commonly used in RTA's in addition to nickel or titanium wire for temperature control.  RTA coil has a small juice inlet, thus only vaporizing a small quantity of juice at a time, while the RDA allows you to add an e-liquid amount resulting in huge vapor. And sometimes, super huge vapor can also affect the flavor of e-liquid. That's why many senior vapers choose RDA.
---
What is RTA?
was last modified:
December 25th, 2016
by