Description
Ethyl Vanillin Liquid Concentrate
An 8% Ethyl Vanillin liquid formulation in PG is your liquid concentration of choice as a flavoring agent and enhancer. It is worth mentioning that Ethyl Vanillin is different from Vanillin, and is 2 to 4 folds more potent than Vanillin.
Based on the recommendation of using Ethyl Vanillin Crystals up to 200 ppm in the flavored e-liquid preparations. Also, for the reason, this liquid concentrate has an 8% concentration. Therefore, all you need to do is to use it as 2.5% in your preparations. Meaning, you can use 2.5ml from this flavor concentrate to add-up to other ingredients in forming a 100mL vaping e-liquid.
---
It forms fine crystalline needles and is used in different food, pharmaceutical, and cosmetics' industries. Also, it belongs to the family of Methoxyphenols and derivatives. These are compounds containing a methoxy group attached to the benzene ring of a phenol moiety.
Physical and Chemical Properties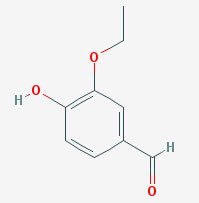 Molecular Mass: 166.176 g/mol
State: Solid (Dry Powder)
Melting Point: 76.7 °C
BoilingPoint: 285 °C
Color: White to slightly yellowish
Taste: Sweet
Water Solubility: slightly soluble
Vapor Pressure: 1.04X10-5 mm Hg at 25 °C
---
Ethyl Vanillin Liquid Concentrate
was last modified:
September 11th, 2018
by